The word 'Slip' is the traditional name given to cuttings. A sweetpotato slip is about 200mm (8") in length. The lower leaves are removed leaving just three or four leaves remaining at the top of the stem. They do not generally have roots, but do produce new roots very quicky once planted provided the soil is kept moist and the leaves do not become desicated.
Sweetpotato
Sweetpotato slips can be planted as soon as the weather is warm enough, this is generally from late April to early June.

When slips are delivered place them in a jug of water somewhere warm, but not in direct sunlight, leave to stand overnight. If weather conditions are suitable the slips can be planted direct into prepared beds, alternatively pot them up into deep containers and allow them root, then plant them out.
​In the UK it is best to grow Sweetpotato in a tunnel, glasshouse or under a large cloche. In milder parts of the country they can be grown outside, but select a warm sheltered sunny position and cover with a fleece during Spring and Autumn.

They require a light sandy, well drained soil, with a pH range of between 5 and 7. If the soil is heavy add some horticultural sand as this will help with drainage and improve tuber shape.

Prepare raised beds or rows and cover with black polythene, this will help raise soil temperature and suppress weeds. Alternatively try growing them in a deep container or bag filled with a mixture of compost and horticultural sand.

Plant the slips at a 45 degree angle, ensure that the whole bare stem is covered and only the top leaves remian above ground. Water the slips in, and make sure the leaves do not become dried out, covering with wet fleece will help. Within a few days the slips will have started to root.
Sweetpotato a very easy to grow, just ensure they get enough water, warmth and sunshine. A month after planting the slips will be well established and producing lots of top growth.

Harvest your tubers in the autumn before the soil temperatures become to cold.
Oca
Oca grows well in light well drained soils, with a pH range between 5.3 - 7.8.
Seed tubers can be planted directly into prepared beds, alternatively pot the seed tubers up and plant later in the season to avoid late frosts.
At about 4 months the Oca plants should be hilled/ridged like potatoes, this will encourage tuber formation and increase yield.
Oca do not start to form tubers until daylight hours shorten. In the UK this is around mid to late September. At this time it is also important to protect the plants from frost until at least late November.
Slips ready for planting
Newly planted beds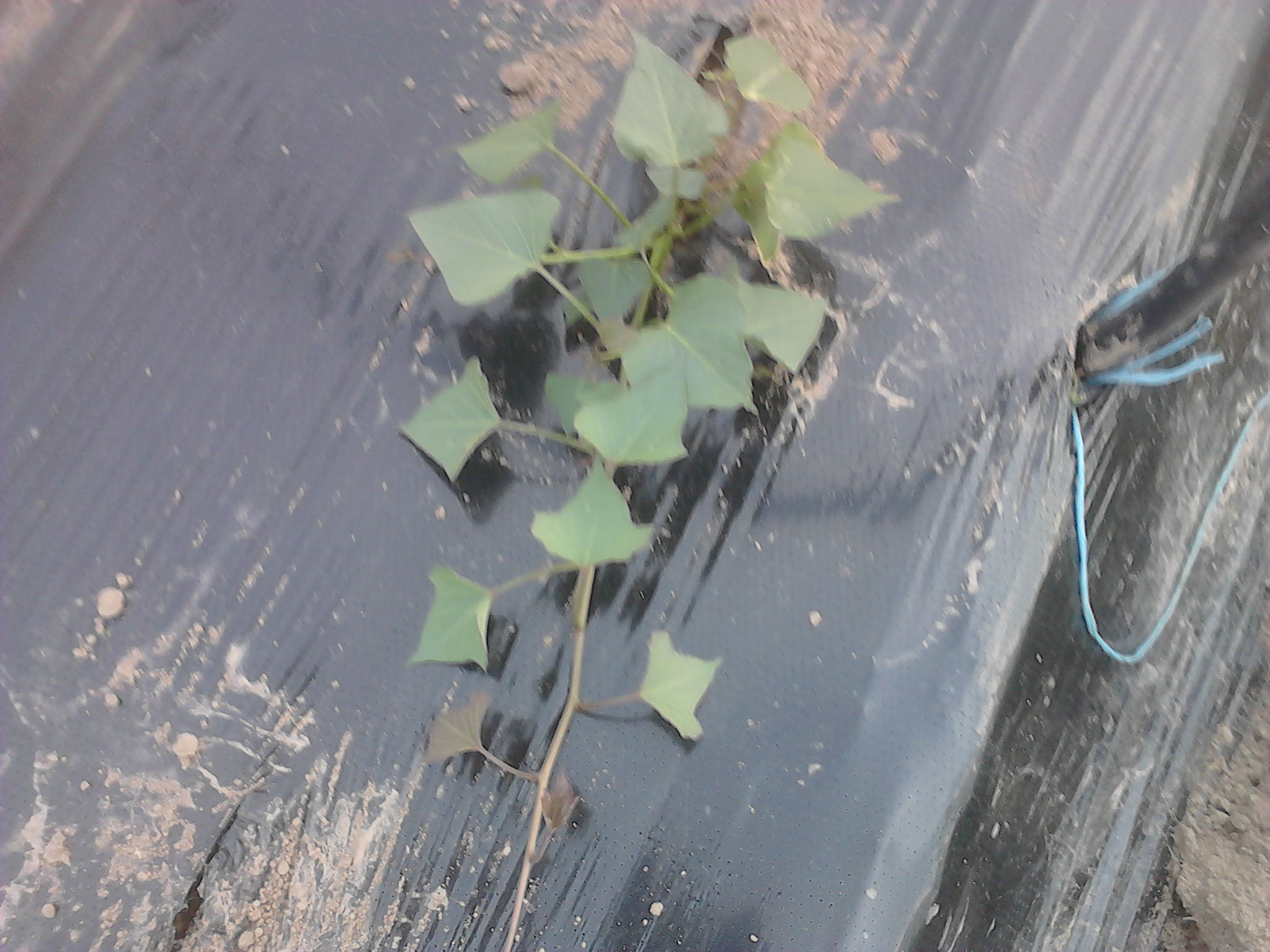 Established slip
Late summer
Tubers at harvest